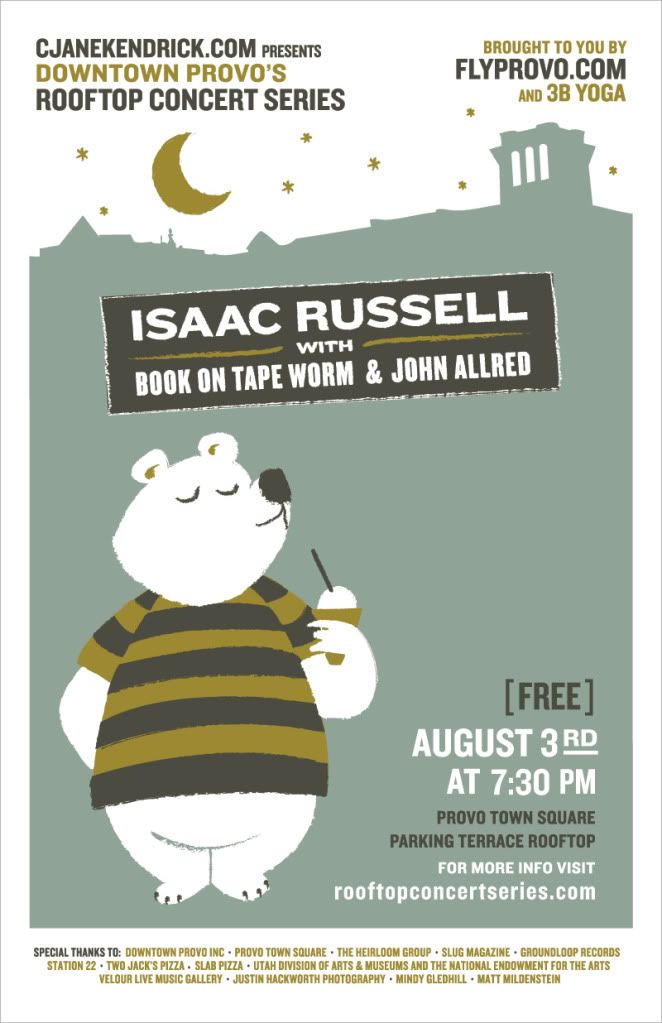 (Press Release)
Featuring Singer-Songwriting Troubadour Isaac Russell
Friday, August 3 at 7:30 p.m.
Provo, UT – Need something cool to combat these dog days of summer? We've got just the thing. Downtown Provo's Rooftop Concert Series will present their next installment, the singer-songwriting troubadour Isaac Russell, Friday, August 3 at 7:30 p.m. on top of the Provo Town Square Parking Terrace.
Russell, a so-called "renegade song-smith," was signed to the Utah-based label, North Platte Records while still in high school. His first album, Elizabeth, propelled him both into the depths of the music business and up the iTunes charts. It also led him to the major labels and in the summer of 2010 he made his Columbia Records debut with the release of his 5-song self-titled EP.
"We've been anticipating this show since last season," said cofounder and sponsor, Courtney Kendrick of the popular blog CJaneKendrick.com. "Isaac's intimate, unique and unforgettable style is perfect for our venue. It will be an excellent concert for discovering new music from our prolific Provo scene."
The concert is free and doors open at 6:00 p.m. Patrons are encouraged to arrive early and to bring blankets or low chairs for seating. The show will begin at 7:30 with local band Book on Tape Worm and singer-songwriter John Allred.
A food market will also be set up in the alley below the venue, featuring food from favorite local restaurants like Two Jack's Pizza, India Palace, and Black Sheep Café.
The Rooftop Concert Series was founded in 2010 as part of an initiative driven by the Cultural Identity Committee to revitalize downtown Provo and is supported in-part by the Utah Division of Arts & Museums and the National Endowment for the Arts. The series has grown to attract more than 2,000 people per concert and an all-star lineup of local and nationally recognized musicians. The 2012 concert series was made possible by generous contributions from FlyProvo.com and 3B Yoga.
Who: Rooftop Concert Series Presents
What: Isaac Russell, with Book on Tape Worm and John Allred
When: Friday, August 3 at 7:30 p.m. (doors open at 6:00 p.m.)
Where: Provo Town Square Parking Terrace, 100 N 100 W, Provo, UT
Cost: Free